Introduction
The Quick Comment for Jira Plugin will allow you to quickly add comments so that you can go back to work faster
Basic Use
The plugin adds a tab pane inside the issue tab panel (next to "Comments", "work Log", "History" etc). The tab pane name is "Quick Comment" and it looks as in the below screenshot.

In order to add a new comment, just click on one of the buttons with the label that best describes your comment. A dialog will ask you to confirm your choice and then the comment will be directly added to the issue comments list
Add/edit comment templates
To add or edit a comment template go to the "More" menu inside the issue. As in here: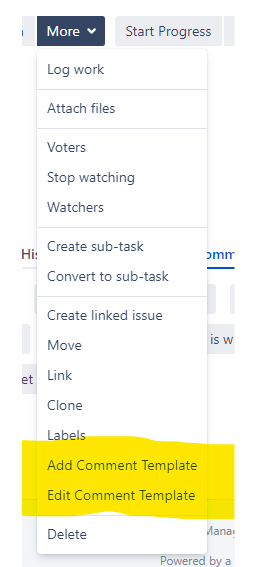 As in the image highlight pick adding a new quick comment template or edit an existing one.
A new window will open which will allow you to add or edit a quick comment.